Ninth House
Author : Leigh Bardugo
Published By : Flatiron Books
Year/Date Published : October 8, 2019
Genre / Tags : Dark Fiction, Low Fantasy, Dark Fantasy, Mystery, Contemporary, Horror, Action
Mood : Vibrant yet mysterious
Formats : Hardcover, Paperback, eBook, Audiobook
# of Pages : 458 pages (Hardcover)
Summary
Galaxy "Alex" Stern is the most unlikely member of Yale's freshman class. Raised in the Los Angeles hinterlands by a hippie mom, Alex dropped out of school early and into a world of shady drug dealer boyfriends, dead-end jobs, and much, much worse. By age twenty, in fact, she is the sole survivor of a horrific, unsolved multiple homicide. Some might say she's thrown her life away. But at her hospital bed, Alex is offered a second chance: to attend one of the world's most elite universities on a full ride. What's the catch, and why her?
Still searching for answers to this herself, Alex arrives in New Haven tasked by her mysterious benefactors with monitoring the activities of Yale's secret societies. These eight windowless "tombs" are well-known to be haunts of the future rich and powerful, from high-ranking politicos to Wall Street and Hollywood's biggest players. But their occult activities are revealed to be more sinister and more extraordinary than any paranoid imagination might conceive.
The mesmerizing adult debut from #1 New York Times bestselling author Leigh Bardugo.
Content Warnings – Horror imagery (ghosts, mainly) violence, murder, coercion, sexual assault, flashback to assault of a child. A bit about that last one- if you wish to skip that scene here are some directions based on the hardcover 2019 US edition I have on hand : Page 121, stop reading at the beginning of the final paragraph that starts with "But Alex had to go. She chose the cleanest metal stall," and start reading again at the beginning of page 124. Or you could just skip pages 121-124 altogether.
Review
I'm still in a foggy state of disarray at finally having and reading Ninth House. This book is good and well worth the while but also not quite measuring to my dreamlike, sky-high expectations. To be fair, no book should be subjected to such. I've found that most of my all-time faves have been utter surprises and the ones I wait feverishly for aren't quite as sensational. Ninth House wasn't a let down and there is much to enjoy within its pages, but this also wasn't quite the bookish euphoria I was expecting. It's a very far cry from Six of Crows in every conceivable way, to the point where I'd venture to imagine some people who hated Bardugo's prior work might love Ninth House and vice versa. The commonalities between the two titles is Bardugo's enduring knack for creative and fresh fantasy imagery (in Ninth House's case, supernatural modern fantasy/mystery/horror) and solid characterization for the main characters.
First I'll start with the main character, Alex. Her situation is best described as being similar to that kid from The Sixth Sense.
But instead of a little boy, imagine a little girl who grows up with not a single support or guiding force when dealing with this unfortunate gift. Only when she enters college, Yale to be exact, does she find people who can relate to her. By the way, if you haven't seen The Sixth Sense I highly recommend dropping everything and watching it. Such a great movie.
Aside from seeing ghosts, Alex can interact with them. Over the course of Ninth House's 450 pages, we see her grow and get a better handle on her powers and even learn how to use them for good and do some sleuthing. There is a bit of a chosen one trope feel but it's a chosen-one-done-right. Alex doesn't get special treatment for her gifts, of anything they've been a curse and the figures that recognize her abilities are not always trustworthy. The narrative jumps back and forth between present and recent past. In the recent past she's given a mentor of sorts in a major character, Daniel Arlington or "Darlington". He comes off as a bit pretentious and info-dumpy at first, but I ended up liking the guy a lot. He has an engaging rapport with Alex and there is what seems to be the vague beginnings of a relationship between the two. I've loved Bardugo's approach to character relationships in previous books- in short, she tends to make them complicated, replete with conversation, and any tender development is hard-earned. Low-key shipping this couple.
Getting into a major criticism though, I didn't find most of the characters outside of Darlington and Alex to be quite as conversationally interesting. The Bridegroom is a memorable exception, but he is one ghost among hundreds of ghosts that Alex could interact with. More enthralling and interactive ghosts, please.
Dawes is likable as an ally supporting Alex but we learn little else about them. Mercy has a minimal role outside of her sub-plot. I saw a particular missed opportunity in Hellie, a character who is central to Alex's dark past. I think some of the world building should have been restrained in favor of memorable character development, which Leigh Bardugo has a history of doing skillfully.
I recall Six of Crows having various snippets of punchy, quotable dialogue. There are some great moments like that in Ninth House but they are often localized within Alex's thoughts and interior development. She spends many later parts of the book being (mostly) on her own, unraveling the tangled web of disturbing secrets and a century of murders having to do with Yale's secret societies.
The strongest aspect of this novel is how it takes down-to-earth locales and infuses a dark and mysterious underbelly of limitless supernatural magic, lurking just beneath the surface. I had quite a time getting a handle on how to even envision some of the dimension-bending abilities that are at work here. The descriptions are lush for low fantasy. A lot of thought and minute details went into the construction of an imposing network of magic-users and their experiments. It ends up coming off like a rabbit hole with a lot of room to grow in the sequels. I'm overwhelmed by how fantastical this novel is, even though it's easily filed as dark fiction/low fantasy.
Also surprised at how effective (and perhaps understated) this book is as a horror novel. There are some very creepy moments where Alex describes what she has gone through with these ghosts or continues to go through. It's imperative that she doesn't make eye contact with them, or they might try to interact with and float closer. A few of them act in ways that are unpredictable. There are times she gets accosted in unexpected locations.
In closing, this book has pretty much everything I love. Supernatural elements, dark pasts, hidden secrets to unravel (or not unravel, I'm still full of confusion about many things) a writing style that almost approaches gothic prettiness at points, and complicated relationships.
My main issue is that things can get too info-dumpy (especially early on) and Alex's obsession with a particular murder mystery can become an overwrought plot point in what is such a broadly intriguing world.
Also of note, though this is just a personal tidbit, I was expecting to be so sucked into this one and reading it in a spellbound trance from beginning to end. While this was the case for perhaps the first half, I was picking it up and putting it down without issue during the last half. So I would say it is lacking a certain extra oomph or utter spellbinding quality despite having, in theory, every possible personally appealing trait.
Overall Rating – 9/10
Why You Should Try It – An inspired and dark blend of low fantasy, mystery, horror, and action. The main character is gritty yet nuanced and I'd describe her as a chosen one trope done right. The lore and writing style is almost exhaustively impressive with a lot of personality and detail. Creative imagery.
Why You Might Not Like It – At times too detailed, or distracted by what should seem to be tangential asides. The side characters were definitely lacking in revealing details or impactful conversation. Alex's standoffishness could be contributing to this.
---
Additional notes
About the disturbing content and how deep/dark it goes, I can definitely see how this can be too much for a teen/YA audience but relative to other dark adult-aimed books in general fiction/horror/thriller/suspense genres, I didn't find this to be exceptionally gratuitous. The one scene that I can see being a point of trouble for people is one in which (spoilers, but I feel it's important to know this context if we're bringing it up at all) the heroine remembers being raped as a child. The moment and its after effects are referenced for some pages. I do urge anyone thinking of reading this book but worrying about that content to only approach with caution. If you would like to completely skip that scene I don't think it would take away any important info from the plot. As stated in the content warning above, it takes place during/is mentioned at length on pages 121-124 in the hardcover edition.
(Spoiler-Free) About the ending- very satisfied with it, but in a way that makes me eager for the sequel. This has been the case for every book by this author, even the one I didn't like (Siege and Storm, second volume of the Grisha Trilogy) she is quite good at handling endings. Building momentum and wrapping up the stuff we wanted to know about all while keeping the door wide open for more. Definitely reading the sequel.
I've heard that a TV adaptation is in the works.. and that's actually pretty exciting to hear about. The low fantasy setting should be simple enough to adapt and seeing the menagerie of ghosts in the flesh is going to be pretty intense. There is a plot point of the characters using spoken word poetry to keep the dead at bay though that will be, uh, challenging to adapt without some unintentional hilarity though. But overall, I'm imagining/hoping for some chaotically entertaining cross between Supernatural, The Sixth Sense, The Eye, and Jessica Jones. That last one only because Alex reminds me of a younger version of Jessica.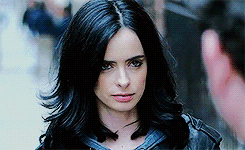 ---
Thanks for reading this review of Ninth House! Am actually shocked that I managed to write it. Upon finishing the book I was full of so many feelings and thinking (how?? How will this all somehow get organized enough to become a cohesive review?) but somehow I typed up this blob that is hopefully functionally coherent and helpful. :'D Have you read Ninth House or is it on your TBR? Always loving to read your thoughts, and thanks again for checking out this review. ~ Kitty