WWW Wednesday is hosted by Sam @ Taking on a World of Words! All you have to do is answers the following three questions: What are you currently reading? What did you recently finish reading? What do you think you'll read next?
What are you currently reading?
Spin The Dawn by Elizabeth Lim (Amazon Affiliate Link- note the hardcover is quite cheap right now at $8)
35% Completed So Far – When I heard this book described as Mulan meets Project Runway I was expecting something cute and goofy. It's actually well structured and written in a convincing way. If you have any interest in making clothes/fashion design/being a tailor, some aspects of this book will be especially enjoyable. I have limited at best interest in such things but am still into it. The description mentions this title being steeped in traditional Chinese culture with some fantasy but I get more of a Pan-Asian vibe like Cinder. It's very easily approachable, no historic info dumps or anything like that. Let me just say right now, I am already in bookish love with this character named Edan. I keep picturing him as early 2000s best cerulean contact lenses ever version of Jrock singer Gackt who I remember as having a very snarky demeanor in interviews. Also, picturing the heroine Maia as a younger Liu Yifei. Edan and Maia are serving light and one-sided enemies to lovers, with Maia being just a bit annoyed by Edan and him just being amused. This gif goes far in explaining their dynamic tbh.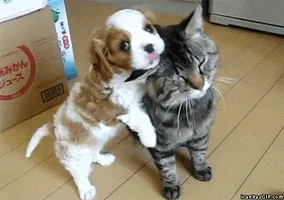 ---
What did you recently finish reading?

Resurrection Girls by Ava Morgyn (Amazon Affiliate Link)
You can see my review for this title here. I liked it! Some issues with the ending but I was engaged throughout. One of my favorite covers this year.
Goodreads Summary / Synopsis
Olivia Foster hasn't felt alive since her little brother drowned in the backyard pool three years ago. Then Kara Hallas moves in across the street with her mother and grandmother, and Olivia is immediately drawn to these three generations of women. Kara is particularly intoxicating, so much so that Olivia not only comes to accept Kara's morbid habit of writing to men on death row, she helps her do it. They sign their letters as the Resurrection Girls.
But as Kara's friendship pulls Olivia out of the dark fog she's been living in, Olivia realizes that a different kind of darkness taints the otherwise lively Hallas women—an impulse that is strange, magical, and possibly deadly.
---
What do you think you'll read next?
Cruel Works of Nature was recommended by Amanda (@aelilyreads) she has a fantastic reading blog, here is a recent post. She widely covers books that are PERFECTLY suited to October TBRs. Speaking of which, doing a reading challenge called All Hallows Read, details here, and I'm planning to make a post in the very near future with my TBR. Looking forward to reading a lot of Halloween-themed stuff, alongside ARCs I have been fortunate to receive. More about that in a future haul post. I have many post ideas planned lol.
---
Hope everyone is having a stellar reading week! Love that it's the start of a fresh new month. Would love to know about your recent reads, and what your reading plans are. Thanks, as always, for checking out this week's WWW. ~ Kitty